.










A Ride On The
Wild Side (600k)



D Levin's
AirPage
.
.

Readiness
Continued Budget Cuts?
Wakeup and smell the coffee!

Consilia sine pecuniis sunt hallucinationes!
Visions/Projects not funded are hallucinations!

CNN
Kosovo, A timeline of tensions

.

.

.

.

.

.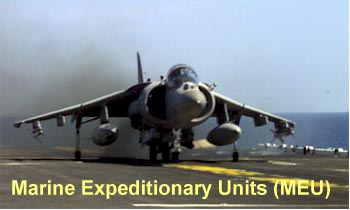 AIR, LAND and SEA
When they say "Send in the Marines," a Marine Expeditionary Unit is usually the first on scene.
MEU ACEs
The aviation combat element (ACE) is a Marine Medium Helicopter Squadron augmented with four types of helicopters into a composite squadron. These units include CH-53E "Super Stallions," CH-46E "Sea Knights," UH-1N "Hueys," and AH-1W "Super Cobras." Ace assets may also include the fixed-wing aircraft such as the AV-8B "Harrier" jet.
.


Navy Information Systems Security
.


Fleet Information Warfare Center


Naval Air Technical Data and Engineering Service Command






.